How to Get More Restaurant Reservations & Boost Your Sales
Restaurant owners/operators are facing huge competition right now as more and more restaurants are opening every year. To keep up with and surpass the competition, it's critical to play the game differently than your competitors using the online space to your advantage. If you've been wondering how to get more restaurant reservations, you've come to the right place.
How do I get more online bookings?
Pour obtenir plus de réservations en ligne, vous devez travailler sur votre présence en ligne. Premièrement, votre site web doit être bien conçu, facile à utiliser et équipé d'un widget de réservation de table. Ensuite, vous devez tirer parti de la puissance des médias sociaux, car de plus en plus de clients utilisent ce média pour réserver un restaurant en ligne.
Create an easy-to-use, mobile-friendly website
The two major channels users turn to when they need local service is search engine and social media. Potential customers looking for online restaurant bookings on Google or social media platforms are more likely to do so using their mobile devices rather than desktop computers.
In fact, as early as 2013, 81% of consumers had searched for a restaurant using a mobile device. As the use of mobile devices increases, so does this percentage. Therefore, it's vital to have a website that looks good and loads fast on mobile phones. These types of sites are referred to as mobile-friendly and responsive websites.
When your website loads fast, is easy to use, and most importantly, has a well-placed call to action (more on that later), you increase your chances of getting more reservations and sales.
Add a table booking widget on your website
An online table booking widget is a link or button you can add to your site that allows customers to make online restaurant bookings directly from your website.
However, it's not enough to have a booking widget; you should look for the best free restaurant reservation system to cut costs. This will make online reservations a hassle-free experience for your site visitors and a cost-free way to increase restaurant traffic for you.
Booking widgets are used by industry top players to increase restaurant bookings. Gone are the days when the customer needed to send an email to your restaurant management for bookings.
Nowadays, new booking widgets have email confirmation, automatic SMS reminders, and can be integrated with your restaurant reservation system software to minimize overbooking and no-shows. With a proper functioning widget, you'll see a jump in your online restaurant bookings.
Use a no-nonsense call to action…
Your call to action should tell the customer exactly what to expect when they click on the button. An unclear or ill-placed call to action won't be as effective; therefore, the action you want visitors to take must be crisp and clear.
Calls to action such as "Reserve Now" or "Book a Table Now" work like a charm, and every page of your website would benefit from a clear, visible call to action.
…and add it on every page
Your "Reserve Now" or "Book a Table Now" button should be easy to find wherever the customer might be on your website. Place it on every page above the fold. You don't want it getting lost in the footer or among other calls to action.
Use social media to build a reputation
If you're wondering how to increase restaurant bookings, know social media can make all the difference. When customers are looking for their next restaurant reservation, they tend to check what others are saying on Facebook and other popular social media sites, as well as on review sites.
In fact, according to a TripAdvisor 2018 survey, 94% of US consumers chose a restaurant to dine in based on online reviews.
Going back to social media, since there are billions of active users on these platforms, leveraging your social media presence can help increase restaurant traffic. Every business is fighting for attention on social media, which makes for increased competition. Therefore, you have to stand out by keeping your social media pages active and engaging.
Pour cela, vous pouvez publier du contenu pertinent et utile sur les plats du menu, les événements spéciaux ou les flux en direct de votre environnement professionnel. Si vous n'êtes pas sûr de ce que les clients potentiels ont besoin ou aimeraient voir, essayez d'espionner vos concurrents pour obtenir des idées qui vous aideront à les surpasser.
Grâce à des mises à jour régulières sur vos pages de médias sociaux, vous rappellerez aux acheteurs potentiels que vous êtes toujours en activité et qu'ils peuvent effectuer des réservations en ligne à tout moment. Vous trouverez ci-dessous une autre stratégie essentielle à ne pas manquer sur Facebook.
Let people know you take online reservations on Facebook

How do restaurant reservations increase through Facebook? One sure way is to let people know you take online table bookings on your Facebook page. Create a cover photo advertising this functionality and let that be the first thing people see when they visit your page.
Create a pinned post that sends visitors from your Facebook page directly to a dedicated page on your website where they can reserve a table. After all, the main goal of directing a potential customer to your website is to get more online restaurant bookings.
For people who want to order directly from your Facebook page, you can add our "See MENU & Order" button that opens a responsive page containing menus, opening hours, directions, and other necessary information without taking the customer off your profile.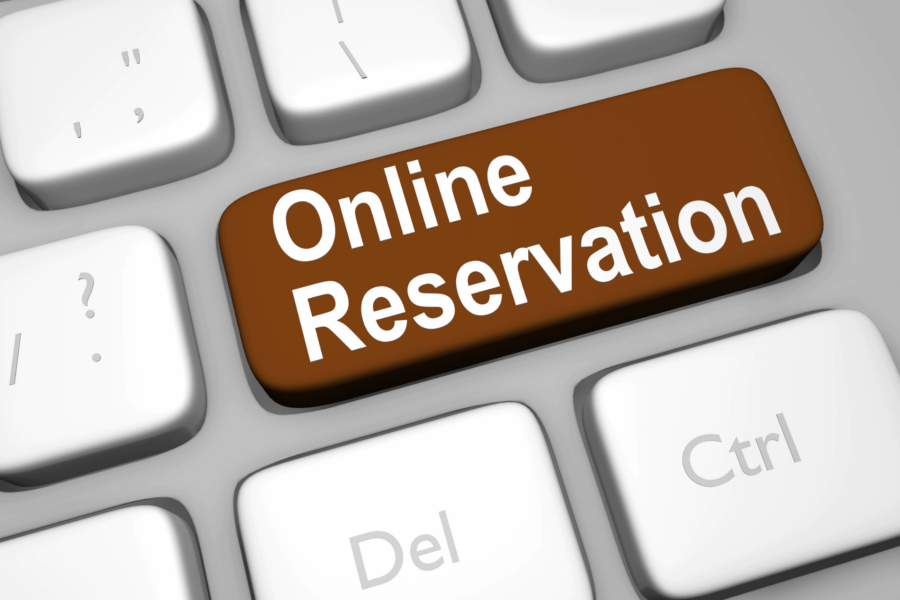 Set up online reservation offers
If you're looking for tips on how to make a slow restaurant busy, having special offers integrated into your online reservations will make a difference. Because customers are looking to save money, offering some sort of discount can convince them to experiment with your business.
Though it sounds commonplace, this strategy can help you get new bookings and attract customers to your restaurant during slow hours.
Use SMS marketing
SMS marketing is not a lost art. In fact, it might be one of the best answers to how to get more restaurant reservations. If you've been taking phone reservations until now, use the phone numbers you've acquired to send your customers irresistible offers if they book a table at your restaurant online.
You can do this especially during periods with less foot traffic to incentivize customers to visit you. Offer them free dessert or a drink on the house if they book a table online. Alternatively, send them a keyword that they can text to a shortcode to get a discount voucher for their next reservation.
If you are interested in marketing strategies for your business, do not hesitate to send us your needs via email: [email protected]. In the meantime, don't forget to get our 100% free video training "The Key Recipe" to develop your restaurant in 6 steps.